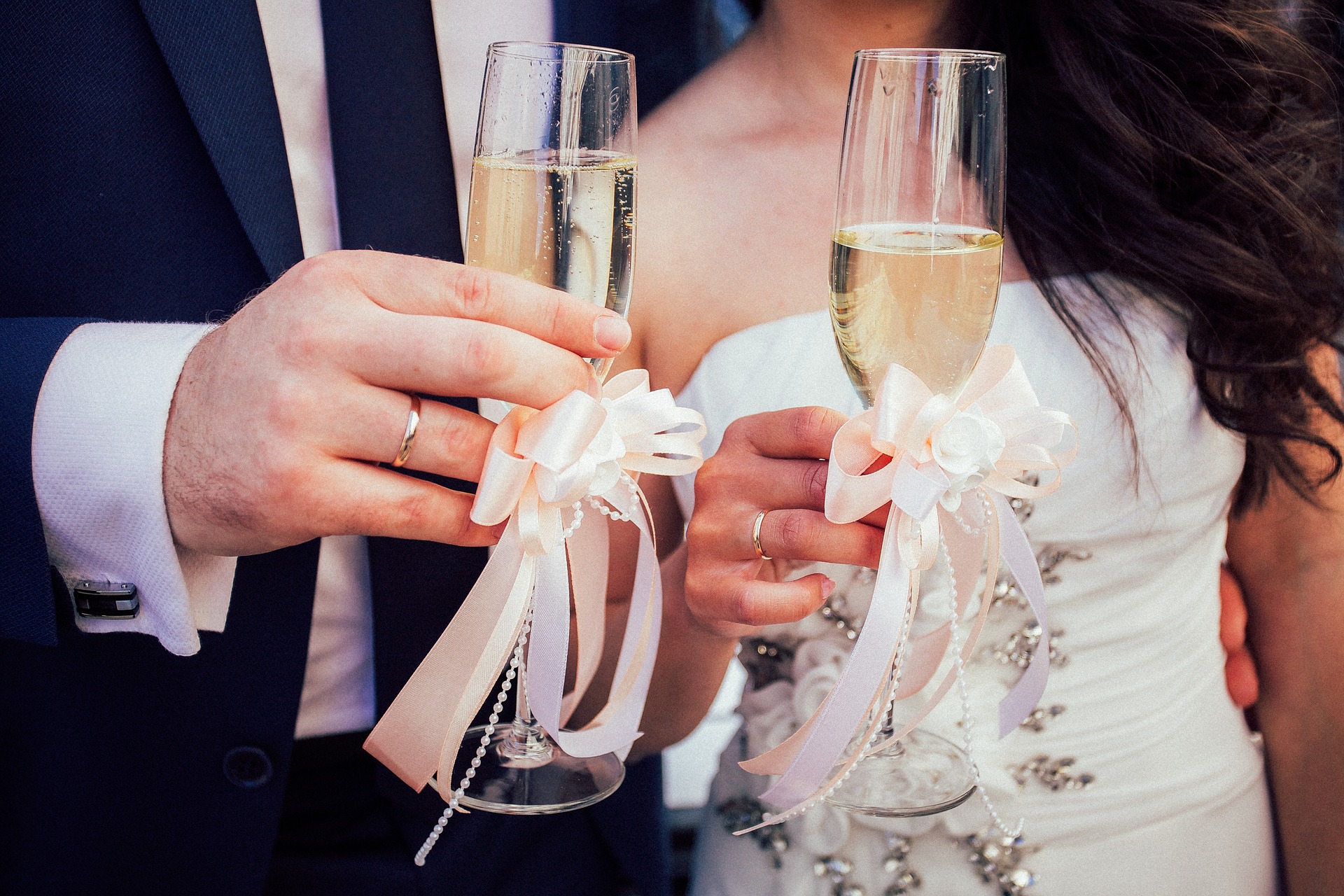 Champagne for a wedding
If champagne is invited for the aperitif, it is also a must for special occasions. It is customary to open a few bottles during a wedding. Do you organize yours? You probably want this day to be perfect! So it's a matter of choosing the right champagne while considering the budget…
What champagne for a wedding? This is the question we will answer right away!
When can I serve champagne?
In many weddings, champagne is now offered to guests from the wine of honour. Of course, this is not an obligation. You can also reserve this sparkling drink for dessert or cake. On the contrary, there is no prohibition to serve it during the cocktail of honor, during the meal and for dessert.
The time of service then determines the choice of champagne for a wedding.
What champagne for the wine of honor?
From the wine of honor, it is therefore possible to serve champagne for an exceptional wedding. Its effervescence will certainly create a festive atmosphere. In this case, we advise you to opt for a fresh and easy to drink champagne. The ideal is then to offer your guests a Blanc de blancs brut. Produced only with chardonnay, such a champagne will combine finesse and lightness, which will delight your guests or a Blanc de Noirs, composed only of pinot meunier or pinot noir such as our champagne Reserve brut and Tradition brut.
Of course, it is possible to find such a champagne among our range. With a dosage of 5.5 grams per liter, our Blanc de blancs will seduce all your guests. Namely, it has a floral nose, subtle, elegant and fruity. And in the mouth, it offers delicate aromas and a perfect harmony.
What champagne for dinner?
During the meal, you can offer wine but also champagne for a festive wedding. Please be assured that your guests will particularly appreciate this attention. However, to make no false note, you must give champagne to the proposed dishes.
For example, you can serve a champagne brut at the time of the starter. In this case, we recommend our Réserve brut champagne, which is 5.4 grams per litre. It goes perfectly with cold fish such as salmon or halibut but also with crustaceans. It can also be enjoyed with cold charcuterie.
Then, if you are planning a dish made with white meat, we recommend our cuvée Prestige brut. This option is also perfect with a plate of Scandinavian fish.
On the other hand, if you intend to continue the meal with guinea fowl or light game, we recommend instead our champagne Prestige rosé brut.
Of course, these are just a few examples. In general, remember that depending on the dishes presented, it is a matter of choosing the right champagne for a successful wedding.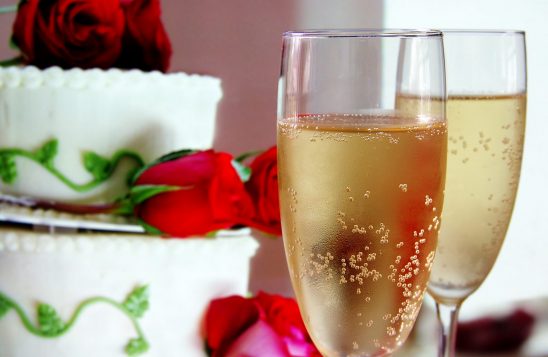 Which bottles for dessert or wedding cake?
As for the meal, the choice of champagne depends on the type of dessert. For example, with desserts composed of red fruits, you can serve a brut rosé champagne, like our cuvée Prestige rosé brut. In parallel, prefer powerful champagnes with desserts based on cream. More precisely, we are referring here to a Blanc de noirs or a Millésime. And to accompany the wedding cake, a wise choice would be a Blanc de Blancs. Namely, you can here quite again serve the same champagne as the one offered to the wine of honor. Rest assured that your guests will be delighted to find a familiar flavor.
For the wine of honor, the meal or the dessert, it is in any case suitable to opt for the good champagne
Champagne for a wedding: what quantities should we plan?
Beyond the question of the type of champagne for a wedding, you are certainly wondering what quantities you should plan. Of course, the number of bottles depends on the number of guests. Likewise, the quantities will vary depending on when the champagne is served.
Namely, during the wine of honor, we suggest you to provide about three flutes per guest. A bottle of champagne is equivalent to 6 to 8 flutes, depending on the size of the flute. On this basis, plan 90 bottles for a wedding of 200 guests (adults).
At dinner, you want to serve champagne for an exceptional wedding? In this case, it will take 1 bottle for 5 guests and this for each of the dishes.
Finally, if you intend to offer champagne for dessert after serving wine at the table, count 2 flutes per guest. In this case, most will take a flute to accompany the dessert and then to start the evening.
And for the rest of the evening, you can set aside a few bottles while offering other drinks.
Custom labels
Do you want to enjoy your wedding? In this case, one idea is to customize the labels of champagne bottles for a romantic wedding. For example, you can simply enter your two first names with the date of the big day. In addition to that, you can also add one or more photos of the two of you. In reality, you can imagine almost everything. With or without photos, in color, black and white, it's up to you!
If you want a personalized label, do not hesitate to tell us about it.
Why choose a harvesting champagne handling?
You're wondering what to choose as a champagne brand for a wedding? In this case, rather than opting for big houses, many married couples prefer a small producer champagne , a Récoltant Manipulant champagne or an independent champagnegrower ("vigneron indépendant") champagne.
Such a choice usually makes it possible to offer novelty to your guests. In this case, a majority of your guests may not know J.Charpentier champagne and you will offer them a nice taste experience. Moreover, note that our champagnes have won many competitions and received many medals. For example, we won the Gold Medal for Prestige rosé at the 2020 Concours Général Agricole in Paris.
You want to test our champagne for a wedding ? Contact us !